Job Placement
Job Placement Program as Defined by the KY Office of Vocational Rehabilitation
Placement – General Concerns
Job placement refers to those activities that may lead to employment of individuals that is consistent with their unique strengths, resources, priorities, concerns, abilities, capabilities, interests and informed choice.
Placement services are provided to eligible individuals in assisting them to prepare for, secure, retain or regain employment. The placement of individuals must occur in the most integrated setting possible before they can be considered rehabilitated.
Placement is a joint effort among the counselor, person served, Office of Vocational Rehabilitation support staff, family (or other representatives) and groups that are involved in the individual's rehabilitation. It is not necessary in every case for the counselor to have direct intervention in placement. There are many tools and resources to assist both the individual and counselor in job placement activities.
These include the vocational rehabilitation job placement specialists, community rehabilitation programs, PACE and private vendors. The counselor has the responsibility to ensure that the individual being placed has the information necessary to make an informed choice regarding the job placement services that are most appropriate in order to achieve a successful employment outcome.
Community Rehab Program
Since 2001, Community Services Project, Inc. (CSP), a Community Rehab Program (CRP), has served individuals with disabilities by assisting them to find fulfilling employment opportunities in integrated work settings of their choosing. We are committed to the people we support and provide them with the services they need to secure jobs. We also ensure excellent quality cleaning services at our contract sites where the vast majority of our staff are persons with disabilities.
Ticket To Work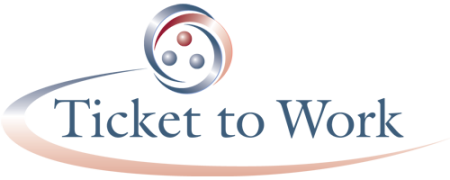 Community Services Project, Inc., is an Employment Network (EN) through the Ticket to Work program. We provide employment, vocational rehabilitation and other support services necessary to achieve employment goals.
Through the Ticket to Work Program, the Social Security Administration (SSA) allows you to make an attempt to go to work WITHOUT putting your benefit status in jeopardy.
By activating your "Ticket to Work," medical reviews will be suspended as long as your ticket is active. You can maintain Medicare and Medicaid for an extended period of time no matter what you earn.
These are just a few of the basic work incentives that Social Security offers. Call us today to speak in more detail about how we can use work incentives to maximize your attempt to get back to work. Community Services Project, Inc., is committed to walking with you each and every step of the way through the changes that may occur to your Social Security benefits when you go back to work.
Vocational Rehabilitation